EDIMAX EU-4306 Convert USB 3.0 Port to Gigabit Ethernet 100/1000Mbps Adapter LAN
Product Code: 262799869141
Availability: In Stock
EDIMAX EU-4306 Convert USB 3.0 Port to Gigabit Ethernet 100/1000Mbps Adapter LAN
**NEW ORIGINAL RETAIL BOX BRAND**


USB 3.0 Gigabit Ethernet Adapter
EU-4306
Compliant with USB 3.0, 2.0 & 1.1 specifications
Supports USB Super/High/Full Speed
Supports all USB 3.0 power saving models
Supports Wake-on-LAN function
Supports IEEE 802.3az (Energy Efficient Ethernet)
Supports IEEE 802.1x flow control and 802.1Q VLAN
Supports jumbo frames up to 4000 bytes
Supports Window 2000/XP/Vista/7/8/8.1, Linux and Mac OS X 10.x
With speeds up to 5Gbps, USB 3.0 is fast becoming the new standard in data-transfer technology for PCs and laptops. However, some computers only feature 10/100 Ethernet ports while Macbook Airs and often Ultrabooks don't feature Ethernet ports at all. Existing USB 2.0 Gigabit Ethernet adapters are limited by the USB 2.0 maximum data rate of 480Mbps while our USB 3.0 adapter can reach speeds of 5Gbps. Upgrade existing 10/100 Ethernet connectivity to super-fast Gigabit speeds or introduce USB 3.0 true Gigabit Ethernet connectivity to an Ultrabook or Macbook Air.
USB 3.0
The EU-4306 supports USB 3.0, the newest specification of the USB standard which specifies a maximum data transmission speed of 5Gbps. Up to ten times faster than the existing USB 2.0 standard which is restricted to a maximum speed of 480Mbps, USB 3.0 enables the full capacity of 10/100/1000Mbps Gigabit Ethernet to be reached through an existing USB port with no need to install a Gigabit Ethernet card.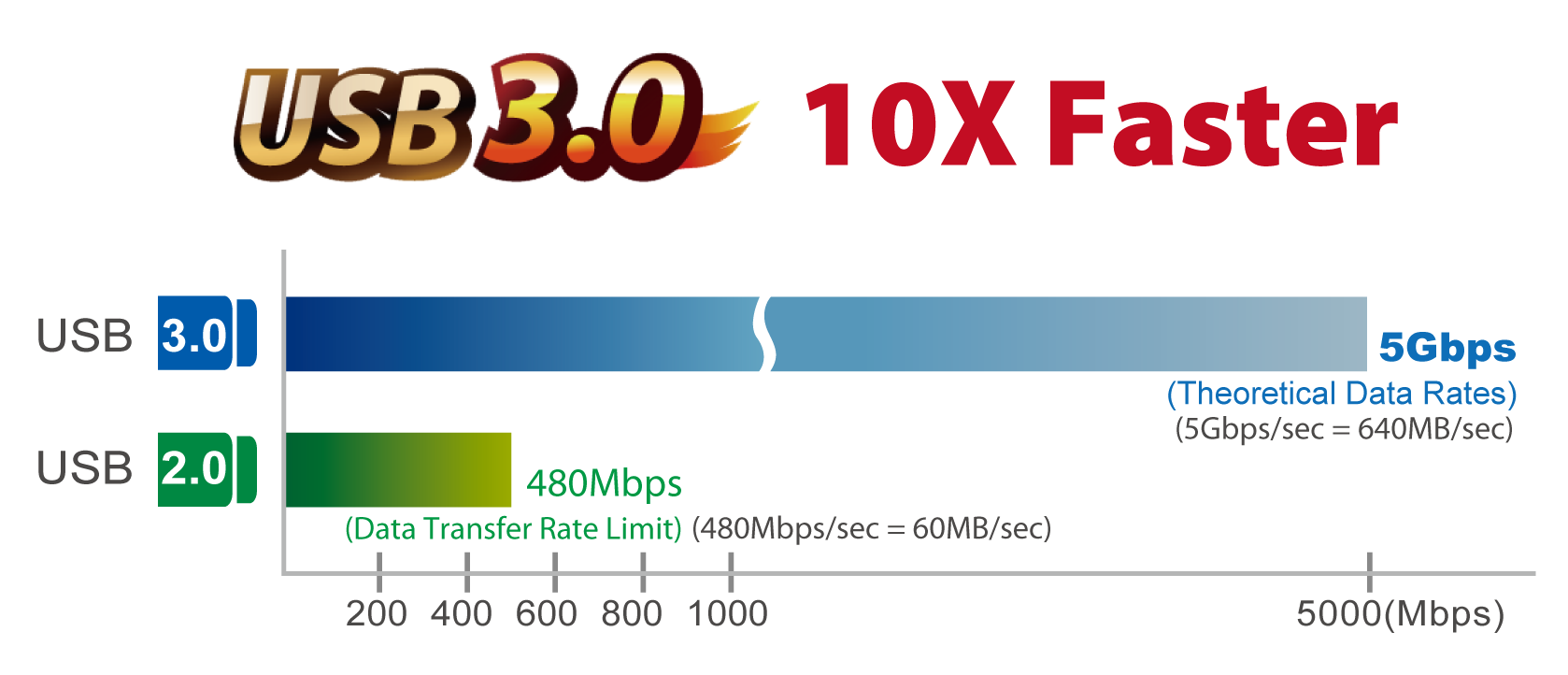 ---


Ideal for Ultrabooks
For Ultrabooks or a Macbook Air with no Ethernet port, use the USB 3.0 Gigabit Ethernet adapter for simple plug-and-play Gigabit Ethernet network connection capability. Take the compact, portable EU-4306 wherever you take your laptop and ensure you stay connected to fast, reliable Gigabit Ethernet whenever you need. Provide Gigabit Ethernet connectivity for desktops, laptops, game consoles or home network appliances.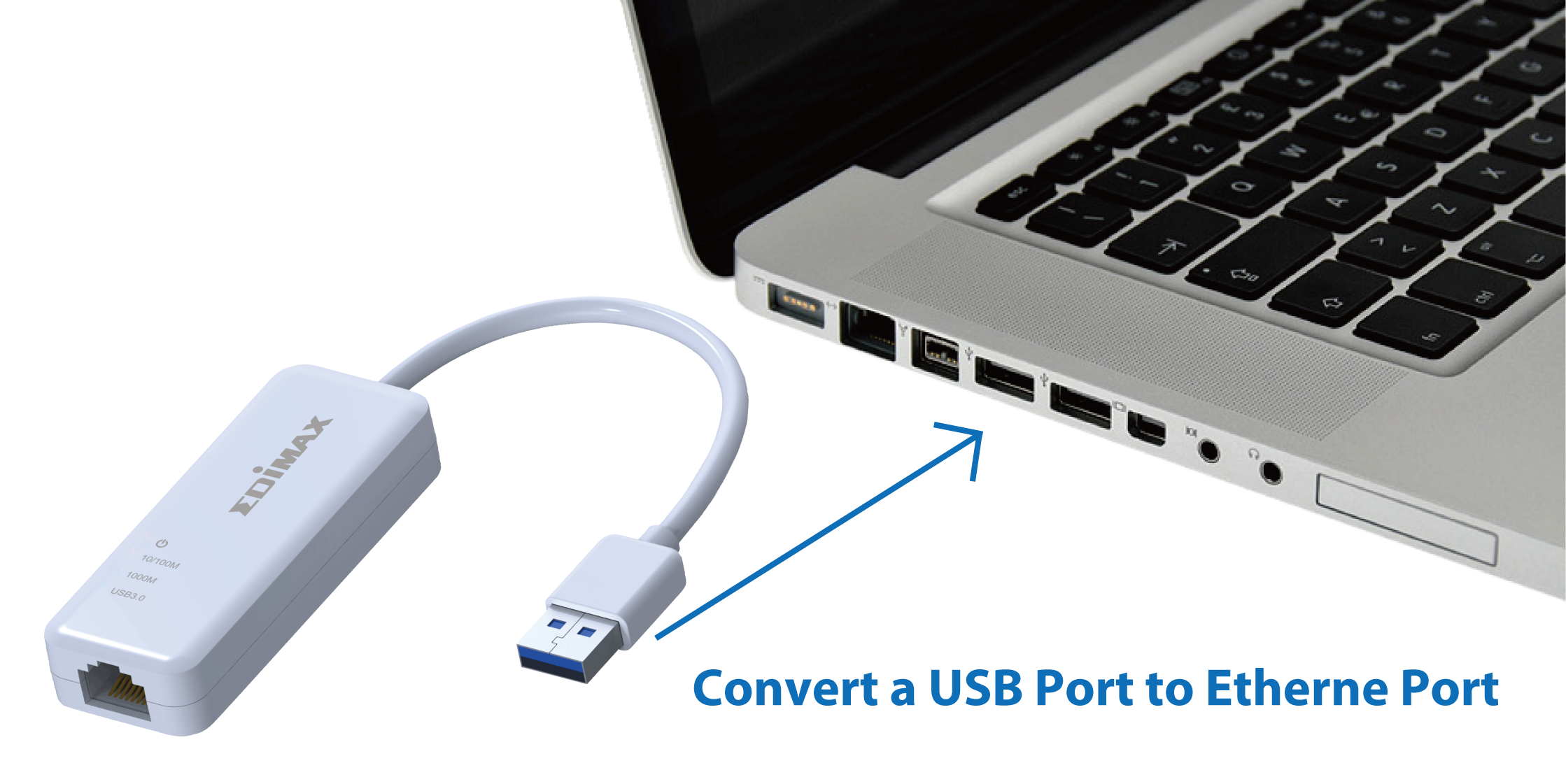 ---
Supports Jumbo Frames
Support for jumbo frames can offer dramatic improvements in network performance and raise effective bandwidth. Jumbo frame are Ethernet frames (data packets) of up to 4000 bytes per frame, in comparison with standard, significantly smaller 1500 byte Ethernet frames. Using larger frames means that fewer frames are sent across the network which improves CPU cycles and bandwidth. For some applications, especially those typical of Gigabit Ethernet use such as large file transfers, the result is greatly increased network performance.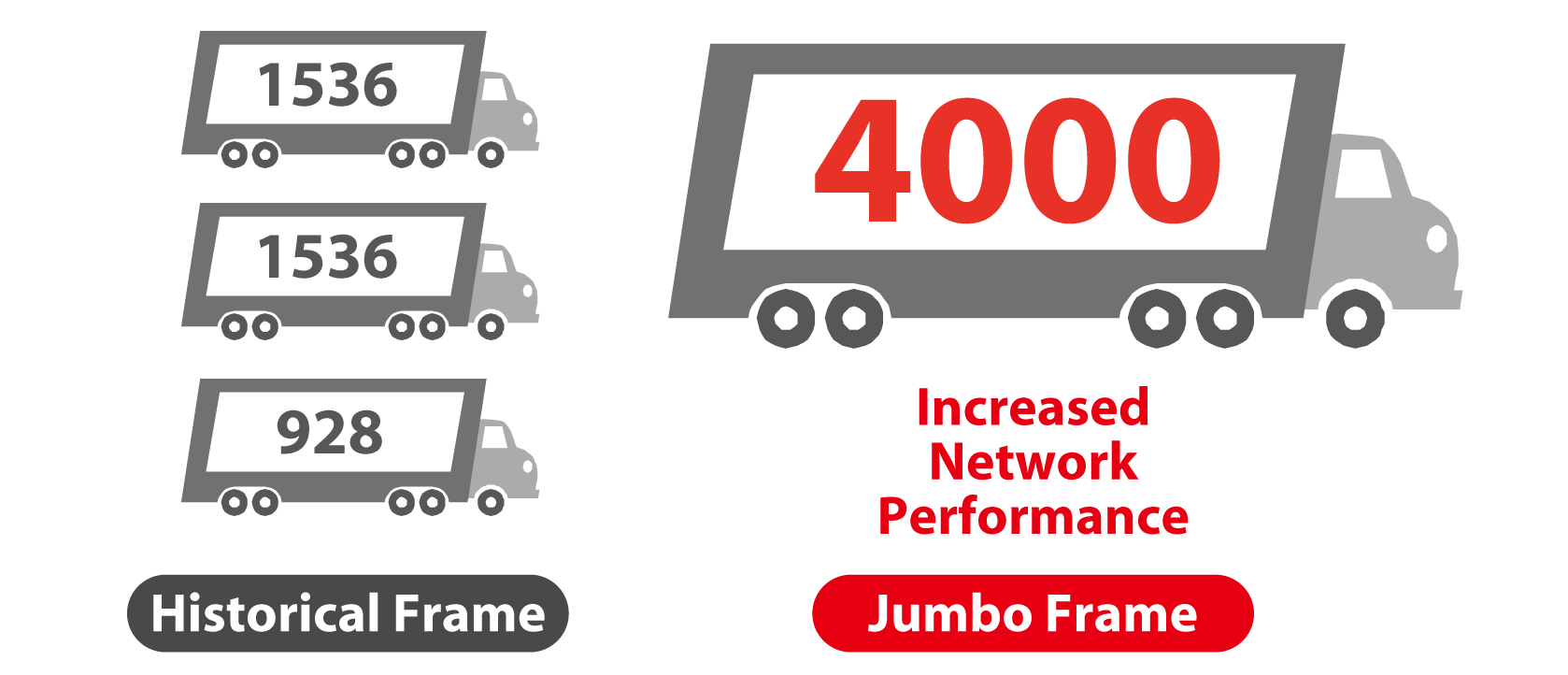 ---
Power Saving
The EU-4306 incorporates a power saving feature to reduce power consumption by up to 35% when there is no Ethernet activity, reducing costs and contributing to a better environment.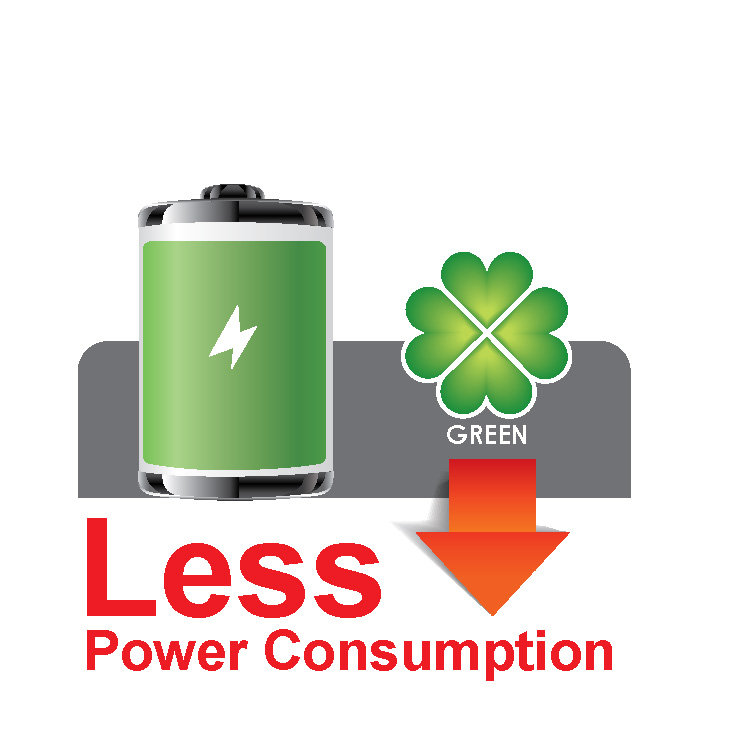 ---
Windows 8.1 & Mac OS X 10.x
Full compatibility with Windows 8.1 and Mac OS X 10.x for hassle-free use with brand new Windows 8.1 and Mac OS X 10.x devices and future-proof peace of mind.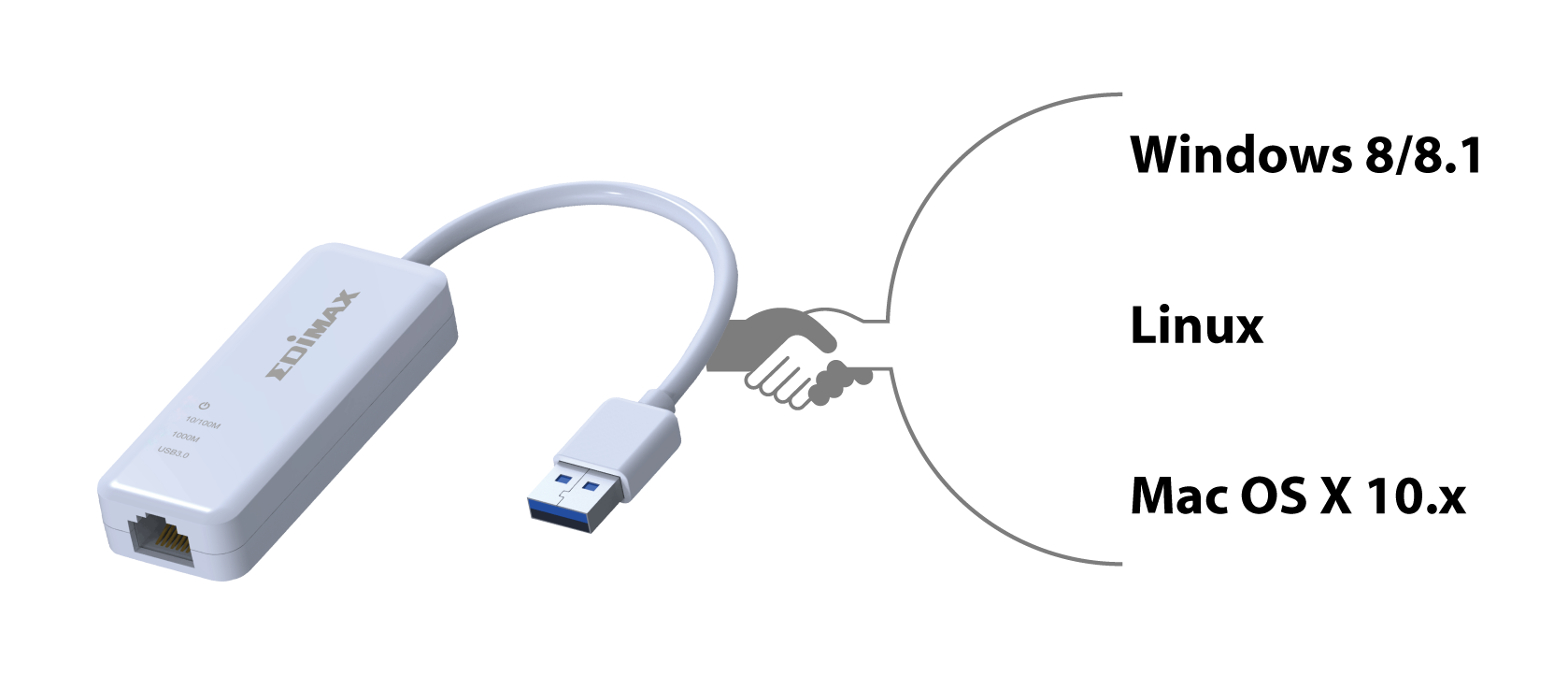 ---
APPLICATION DIAGRAM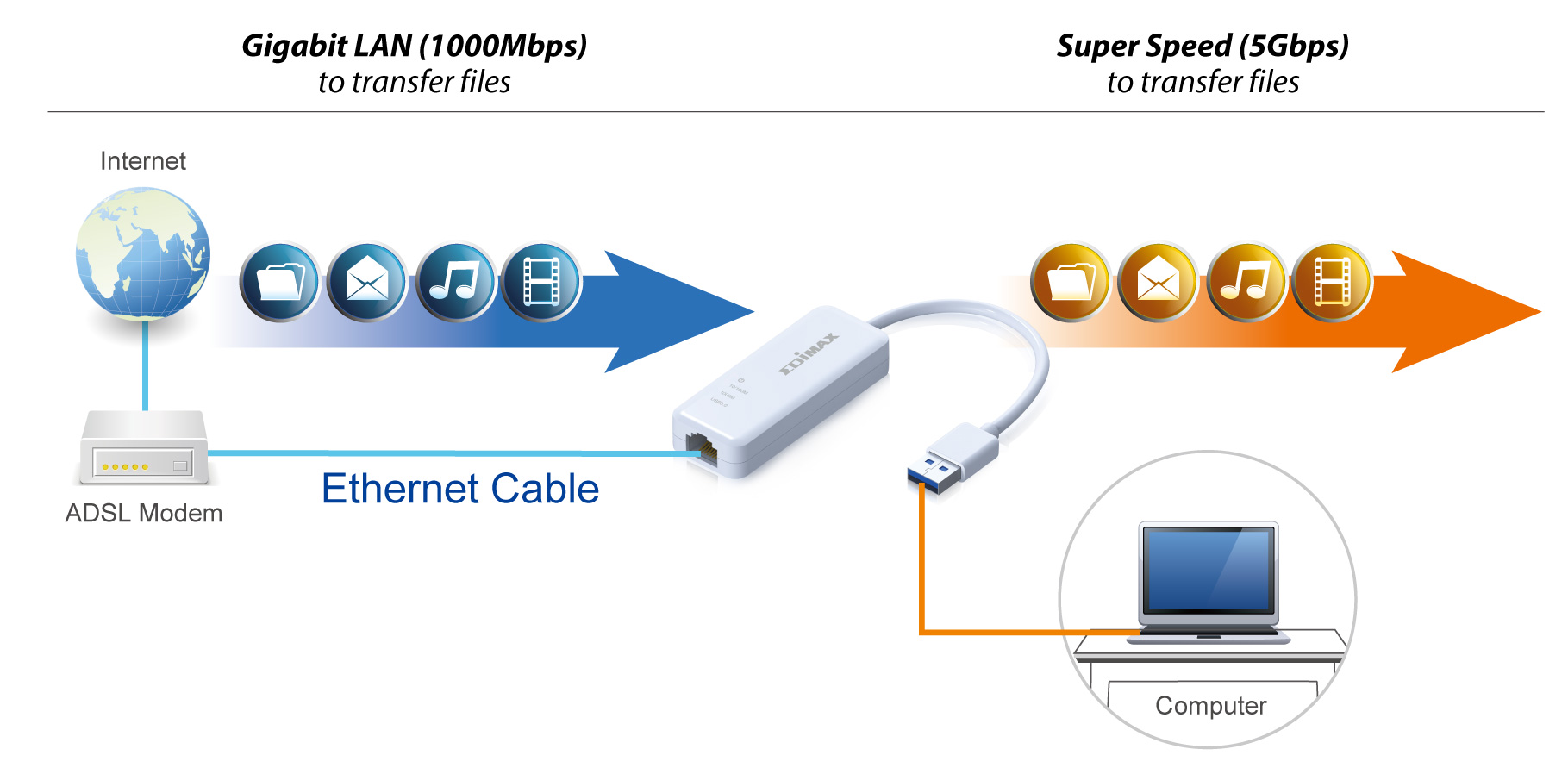 SPECIFICATIONS
Hardware

Standards

Supported OS

•1 x USB 3.0 type A, male
•1 x RJ-45 10/100/1000Mbps LAN port
•LED indicators: Power, 10/100M, 1000M, USB3.0

•IEEE 802.3
•IEEE 802.3u
•IEEE 802.3ab
•IEEE 802.3az
•IEEE 802.1x/q

•Windows XP/Vista/7/8/8.1
•Mac OS 10.6/10.7/10.8
•Linux kernel 3.x/2.6.x

Power Consumption

Storage Temperature

Operating Temperature

•165mA @5.0VDC (USB Bus Powered)

•-10-80 degrees Celsius

•0-40 degrees Celsius

Dimensions

Weight

Certification

•73.2 x 28 x 13.6 mm (L x W x H)

•23.5g

•FCC, CE
PACKAGE CONTENTS
?
USB 3.0 Gigabit Ethernet Adapter x 1
Quick installation guide x 1
CD with setup wizard, user manual & multi?language QIG x 1
Write a review
Note: HTML is not translated!
Rating: Bad Good
Enter the code in the box below: