Edimax BR-6478AC Wireless WiFi AC1200 Gigabit Router Access Point Range Extender
Product Code: 262811778094
Availability: In Stock
Edimax BR-6478AC Wireless WiFi AC1200 Gigabit Router Access Point Range Extender
**NEW ORIGINAL RETAIL BOX BRAND**
Comes with EU Plug


AC1200 Multi-Function Concurrent Dual-Band Wi-Fi Gigabit Router
BR-6478AC
Next generation 802.11ac Wi-Fi standard
3-in-1 Router, Access Point and Range Extender
Backward compatible with 802.11a/b/g/n standards
Concurrent dual-band wireless connectivity for 2.4GHz and 5GHz
5-port gigabit Ethernet connectivity
Revolutionary iQoS for efficient and effective internet bandwidth management
The extraordinary growth in the number of wireless devices found in modern homes has seen a huge increase in demand for wireless speed, range and bandwidth. This continuing trend away from wired connections to wireless communication and the ever-increasing throughput demands of new Wi-Fi devices and applications—including Internet TVs, computers, tablets and smartphones—drives the requirements in today's homes for high-performance, reliable Wi-Fi to unprecedented levels. To meet the connectivity needs of homes and businesses alike, Edimax has launched the BR-6478AC dual-band 802.11ac router: featuring the latest 11ac draft standard for extraordinary improvements in the speed, reliability and quality of wireless communications.



Next-Generation Wireless Networking
The Edimax BR-6478AC router supports the next generation IEEE 802.11ac wireless standard, meaning higher data rates in the 5GHz band. With 300Mbps speeds in the 2.4GHz band and 867Mbps speeds in 5GHz, the BR-6478AC is ideal for HD video streaming and large file transfers. The router is also backward compatible with 802.11a/b/g/n to ensure compatibility with legacy Wi-Fi devices.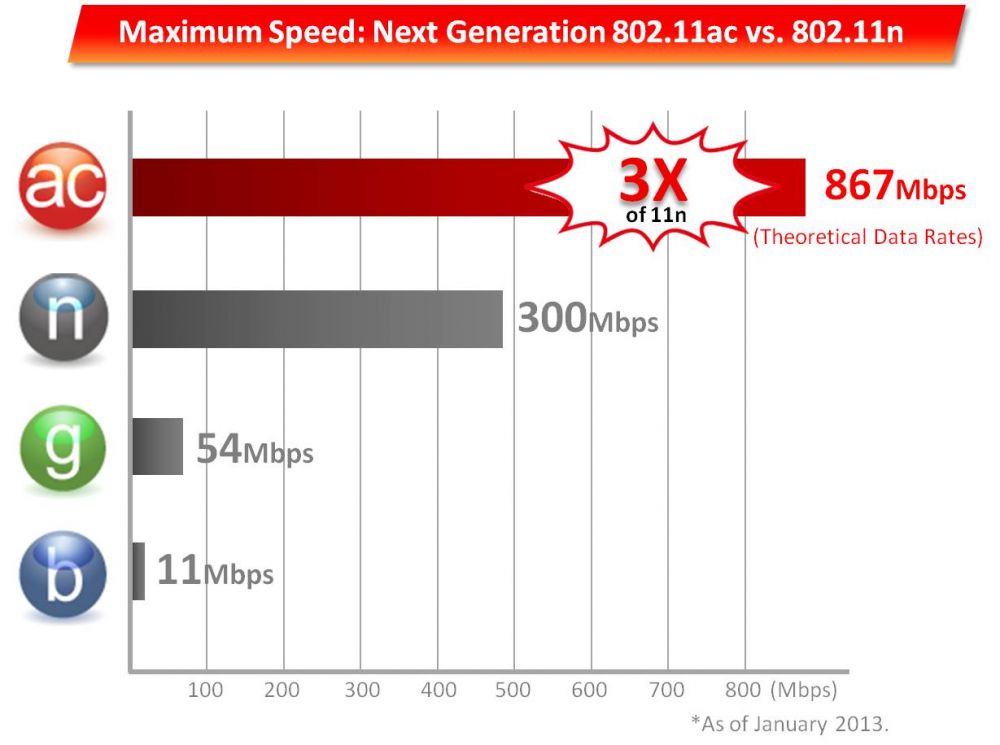 ---
3-in-1 Router, Access Point and Range Extender
The BR-6478AC can work as router, access point or range extender. Just configure the mode you need for your network environment using the smart iQ Setup wizard.
?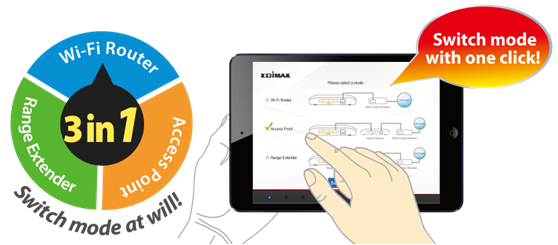 Switch mode using the smart iQ setup wizard
on any device with a web browser, no CD required.
*Mobile device setup requires iOS 4.0 or Android 4.0 and above.
---
Concurrent Dual-Band Wi-Fi & Gigabit Ethernet Connectivity
The Edimax BR-6478AC router provides simultaneous 2.4GHz (802.11n) and 5GHz (802.11ac) wireless network connectivity for maximum flexibility of use. Additionally, the BR-6478AC router features four gigabit LAN ports and one gigabit WAN port, offering data rates of up to a staggering 1000Mbps for users with the need for maximum network performance. With gigabit Ethernet connectivity, the BR-6478AC can provide users a fast and smooth media streaming or network gaming experience.



---

Smart iQ Setup
Features iQ Setup for smart, automatic and quick installation with no CD required.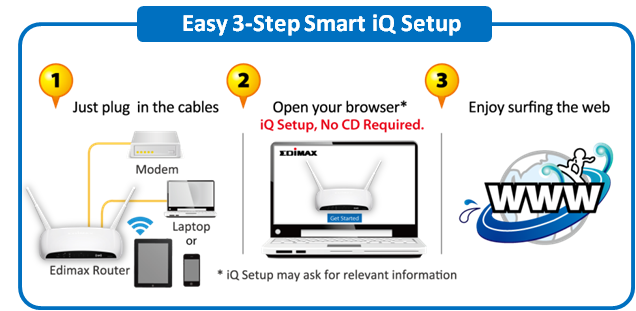 ---
Edimax's Revolutionary iQoS
iQoS is Edimax's solution for a quicker, easier, and more effective way to manage Internet bandwidth. While Quality of Service (QoS) functionality is a common feature in routers across the market, typically only advanced users have the knowledge required to set up the complex parameters. Edimax though has redesigned QoS with user-friendliness and accessibility in mind. A simple and intuitive user interface allows users to arrange bandwidth priority settings in just a few clicks. With iQoS, you can enjoy gaming, video streaming, VoIP applications and BT clients at the same time without the usual nightmare of lag and interruptions. An original, efficient and effective means of managing your Internet bandwidth.


---
Guest Network*
Supports a guest network to provide connectivity while isolating guests from your primary network.
*Router mode only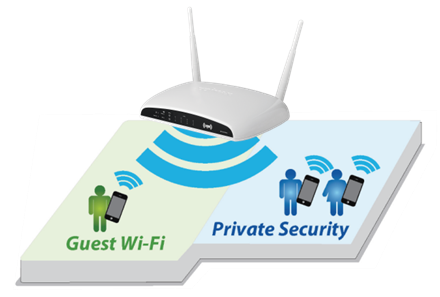 ---
WPS (Wi-Fi Protected Setup) Button & Built-In WLAN On/Off Switch
The Edimax BR-6478AC allows users to build secure connections with WPS enabled wireless devices simply by pressing the WPS button - there is no need for the hassle of complex set up and configuration procedures. And with the built-in WLAN on/off switch users can also easily switch on/off the wireless connection without logging into the user interface – an easy way to save electricity when it is not in use.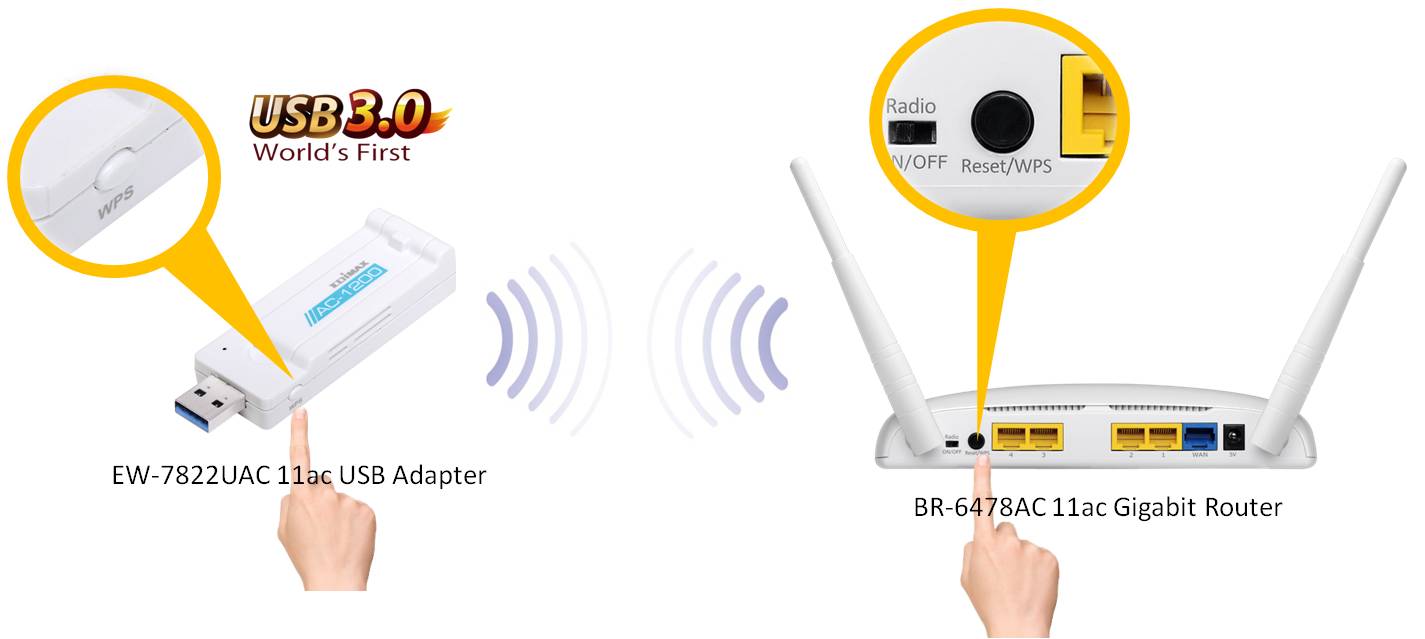 ---
APPLICATION DIAGRAM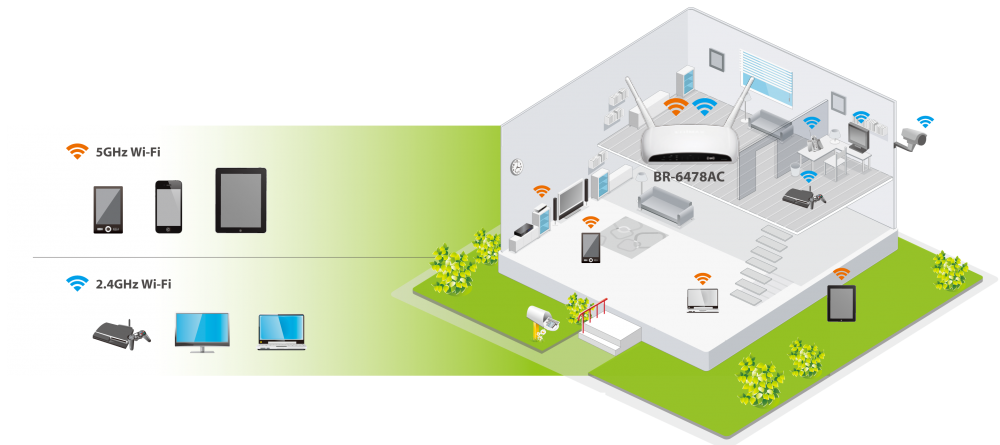 SPECIFICATIONS
FUNCTIONS

HARDWARE INTERFACE

MANAGEMENT

•Supports router, access point & range extender modes
•Guest network
•IGMP proxy and IGMP snooping
•DDNS and DHCP
•Port triggering for special applications
•Virtual server and DMZ hosting
•MAC/IP filter and URL blocking
•iQoS for smart bandwidth management
•Static routing
•UPnP architecture
•VPN pass-through (IPSec/PPTP)
•Wi-Fi schedule control

•1 x RJ-45 gigabit WAN port
•4 x RJ-45 gigabit LAN port
•LED indicators: power, Internet, wireless, WAN LNK/ACT, LAN LNK/ACT
•2 x 3dBi dual-band antennas
•WPS/Reset button
•Wireless on/off switch

•Multi-language user interface
•Supports remote management
•System status and security log
•Firmware upgradable
•Smart iQ Setup, no CD required
•Supports smartphone, tablet or laptop setup (iOS 4 or Android 4 and above are required for smartphone or tablet setup).

WAN

OUTPUT POWER & SENSITIVITY GAIN (5GHz)

OUTPUT POWER & SENSITIVITY GAIN (2.4GHz)

•Supports WISP connection mode
•Supports RJ-45 cable/xDSL modems
•WAN protocol: PPPoE, static IP, dynamic IP, PPTP and L2TP

Output Power
•11a(54Mbps): 12±1.5dBm
•11n(20MHz, MCS7): 12±1.5dBm
•11n(40MHz, MCS7): 12±1.5dBm
•11n(80MHz, MCS9): 10±1.5dBm
Receive Sensitivity
•11a(54Mbps): ?70±2dBm
•11n(20MHz, MCS7): ?68±2dBm
•11n(40MHz, MCS7): ?64±2dBm
•11n(80MHz, MCS9): -54±2dBm

Output Power
•11b (11Mbps): 16±1.5dBm
•11g (54Mbps): 14±1.5dBm
•11n (20MHz, MCS7): 13±1.5dBm
•11n (40MHz, MCS7): 13±1.5dBm
Receive Sensitivity
•11b(11Mbps): ?84±2dBm
•11g (54Mbps): ?70±2dBm
•11n(20MHz, MCS7): ?65±2dBm
•11n(40MHz, MCS7): ?63±2dBm

SECURITY

MEMORY

HUMIDITY & TEMPERATURE

•64/128-bit WEP encryption, WPA and WPA2 security
•QoS for critical operations
•SPI anti-DoS firewall

•4MB NOR Flash
•64MB RAM

•10-90% (non-condensing)
•0-40oC

POWER ADAPTER

DIMENSIONS & WEIGHT

CERTIFICATIONS

•DC 5V, 2A

•196mm x 114mm x 36mm
•315g

•FCC/CE
PACKAGE CONTENT

Broadband router (main body, 1 pcs)
Quick Installation Guide (1 pcs)
One CD-ROM (Including the Setup Wizard, Multi-languages Quick Installation Guide and User Manual)
5V DC power adapter (1 pcs)
Ethernet Cable



HARDWARE INTERFACE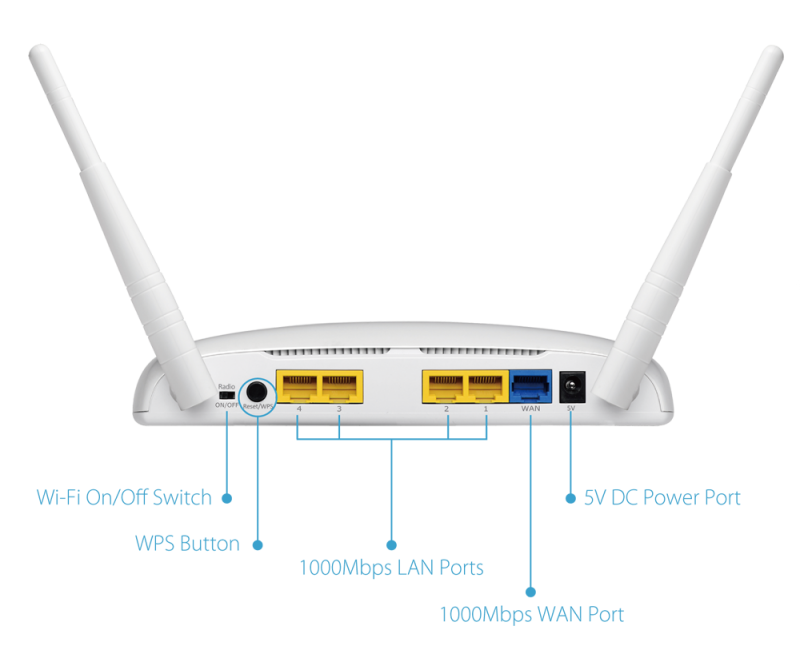 Write a review
Note: HTML is not translated!
Rating: Bad Good
Enter the code in the box below: