D-Link DAP-1620 Wireless Dual-band Wi-Fi AC1200 Range Extender Antenna Repeater
Product Code: 262546298452
Availability: In Stock
D-Link DAP-1620 Wireless Wi-Fi AC1200 Range Extender Gigabit LAN Port Antenna
**NEW ORIGINAL RETAIL BOX BRAND**
Comes with EU Plug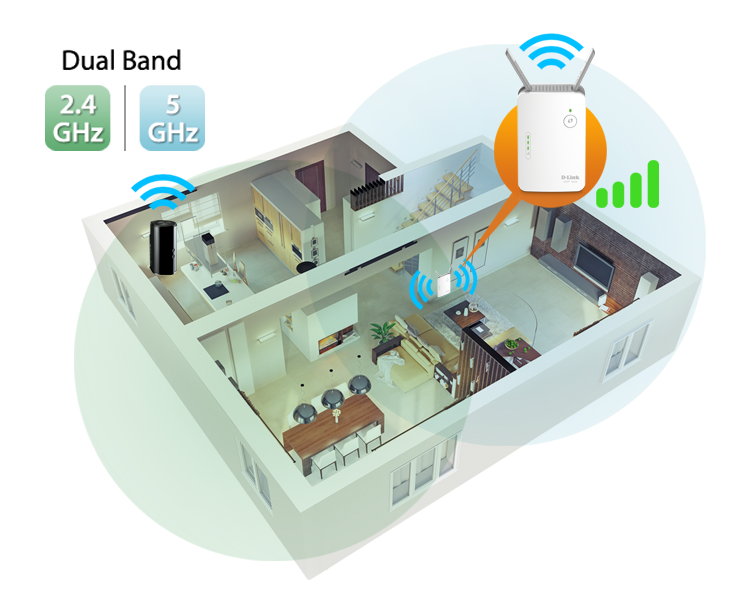 The DAP-1620 AC1200 Wi-Fi Range Extender is a portable plug-in repeater that lets you extend an existing wireless network. You can place it anywhere in your home to increase the range of your wireless network. Tiny yet powerful, it supports Wireless AC speeds of up to 1200 Mbps, yet fits in the palm of your hand.
Easy to Set Up, Easy to Use

Set up is simple. There is no need for a computer as you can use the supported QRS Mobile app on your iPhone, iPad, or iPod touch or Android mobile device to set up the DAP-1620 easily. Alternatively, you can use one-touch configuration by pushing the WPS push-button on the DAP-1620 and on the router or AP you want to extend, and the DAP-1620 will automatically configure itself for you. It even includes a built-in setup wizard that lets you configure it wirelessly with a PC or mobile device.
Extend Your Wireless Network

Dual-band technology helps reduce interference from nearby wireless transmitters in the home, and also provides backward compatibility with older wireless devices in your network, allowing you to enjoy a blazing-fast, reliable wireless connection. Alternatively, use the built-in Gigabit Ethernet port and your home's existing wired Ethernet cabling to extend wireless coverage without worrying about signal strength.
Compact, Convenient Design

This compact device is ideal for use at home or a small office, as it does not take up much space and is ready to use by simply plugging it in. The bright Signal Indicator LED makes finding a suitable location a cinch. Its diminutive wall-plug design easily saves you the hassle of dealing with a power cord. Its sleek, unobtrusive appearance blends easily into the decor of your home or office.
Technical Specifications
General
Device Interfaces
802.11ac/n/g/b/a Wireless LAN
10/100/1000 Gigabit Ethernet Port
Reset Button
WPS Button
LEDs
Status/WPS
3 Segment Wi-Fi Signal Strength Indicator
Standards
IEEE 802.11ac
IEEE 802.11n
IEEE 802.11g
IEEE 802.11b
IEEE 802.11a
IEEE 802.3ab
Antennas
Plug Type
Functionality
Wireless Security
Wi-Fi Protected Access (WPA/WPA2)
WPS (PBC)
Advanced Features
D-Link One-Touch Extender Setup
Device Management
Supports QRS Mobile app for iPhone, iPad, iPod touch, and Android mobile devices
Web UI
Physical
Dimensions
120 x 59 x 42 mm (4.72 x 2.32 x 1.65 inches)
Write a review
Note: HTML is not translated!
Rating: Bad Good
Enter the code in the box below: