AMD FirePro S400 Synchronization Module GPU Visualization Power Walls 100-505981
Product Code: 262621986375
Availability: In Stock
AMD FirePro S400 Synchronization Module GPU Visualization Power Walls 100-505981
**NEW ORIGINAL RETAIL BOX BRAND**


Innovation and Reliability from a Technology Leader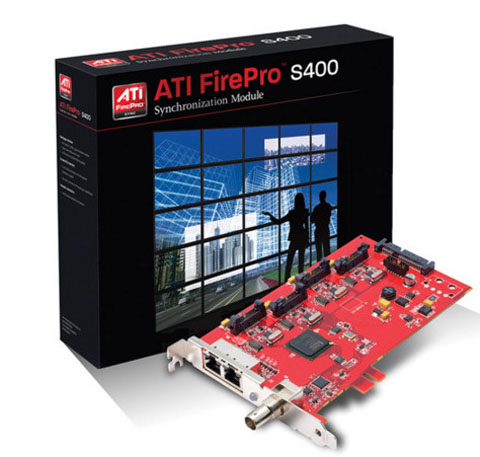 ? The new ATI FireProв"ў S400 synchronization module allows AMD FireProв"ў 3D workstation graphics cards to be used in demanding applications that require synchronization to external sources (Genlock) or synchronization of 3D rendering of multiple GPUs in different systems (Framelock). The combination of these capabilities with AMD FirePro graphics accelerators means that an even wider set of applications can benefit from the award-winning AMD FirePro line.
Based on a full hardware, dedicated processor design, the ATI FirePro S400 helps ensure clock-accurate synchronization in virtually all scenarios. The dedicated processor allows up to four attached GPUs1 to work in the rendering needs of the user without compromising sync.
Features and Benefits
Support for up to 4 GPUs per module
Field upgradeable firmware
Full hardware synchronization
Support for connecting multiple computers and their GPUs together
Sync to virtually any video source
Serial ATA power connector
Support for OpenGL and DirectXВ®
ATI FireProв"ў S400 Framelock for simulation, visualization and power walls
The ATI FireProв"ў S400 delivers Framelock by combining Output lock (synchronized display output) and 3D swap lock (simultaneous 3D buffer swapping), helping ensure that the GPUs in connected systems present their output in lock-step.
The two RJ-45 connectors on the module allow for connection of multiple daisy-chained systems (each with up to 4 ATI FirePro GPUs inside). The BNC connector on the module optionally allows systems to be synchronized (Genlocked) to an external signal, a capability essential for use in powerwalls used in live television broadcasts.
ATI FireProв"ў S400 Genlock for broadcast, NLE and other video workflows
The ATI FirePro™ S400 permits Genlocking by delivering Output lock ((synchronized display output) that is driven by an external reference signal (typically �house sync'). This allows the output of attached GPUs to be fed into video-centric devices (e.g. monitors used in broadcast applications, or Non-Linear Editing suites).
The BNC connector on the ATI FirePro S400 allows for receiving and synchronizing to virtually any video input source, including:
PAL & NTSC SD video blackburst
HDTV tri-level sync
TTL
Sync signals on SDI
Innovation and Reliability from a Technology Leader
ATI FireProв"ў accelerators, including the ATI FirePro S400, have been engineered to deliver innovation and reliability for a wide range of professional operating environments, including WindowsВ® XP, Windows VistaВ®, WindowsВ® 71 and LinuxВ®. The unified driver, which supports all ATI FirePro workstation products, helps reduce the total cost of ownership by simplifying installation, deployment and maintenance.
Write a review
Note: HTML is not translated!
Rating: Bad Good
Enter the code in the box below: